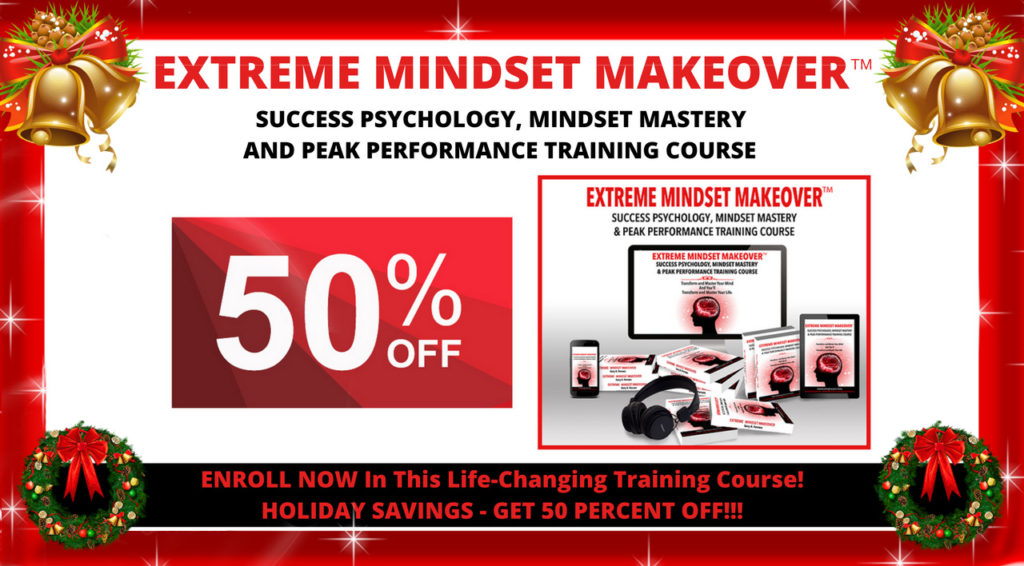 [FIND OUT/LEARN MORE HERE]
http://whyredandinspyred.com/extreme-mindset-makeover-tm/
[ENROLL AT 50 PERCENT OFF HERE]
https://whyredandinspyredmedia.samcart.com/products/extreme-mindset-makeover
HOW TO TAKE CONTROL OF YOUR FINANCIAL & PERSONAL DESTINY and
"FUTURE PROOF" YOUR DREAMS and GOALS for 2017
and
HOW TO USE NEUROSCIENCE BRAIN TRAINING (NSBT) TO ACHIEVE and SUSTAIN REAL, LASTING FINANCIAL SUCCESS, PERSONAL SUCCESS and THE DREAMLIFE YOU WANT and DESERVE –
FASTER THAN YOU EVER THOUGHT POSSIBLE.
Give Yourself or Someone Else You Love and Care About The Holiday Gift That Will
 TRANSFORM You and Someone Else You Love and Care Abouts' Life.
TAKE ADVANTAGE OF THE XMAS HOLIDAYS
50 PERCENT OFF HOLIDAY DISCOUNT.
Dear Fellow Success and Dreamlife Seeker:
During This XMAS Holiday Season Time Only, Give Yourself and Your Loved Ones The Gift That Allows You and The Ones You Care About To:
Become All They Can Be!!!
and
Achieve and Sustain All the Financial Success and Personal Success
You Dream Of, Want and Deserve!!!
by getting the
EXTREME MINDSET MAKEOVER training course.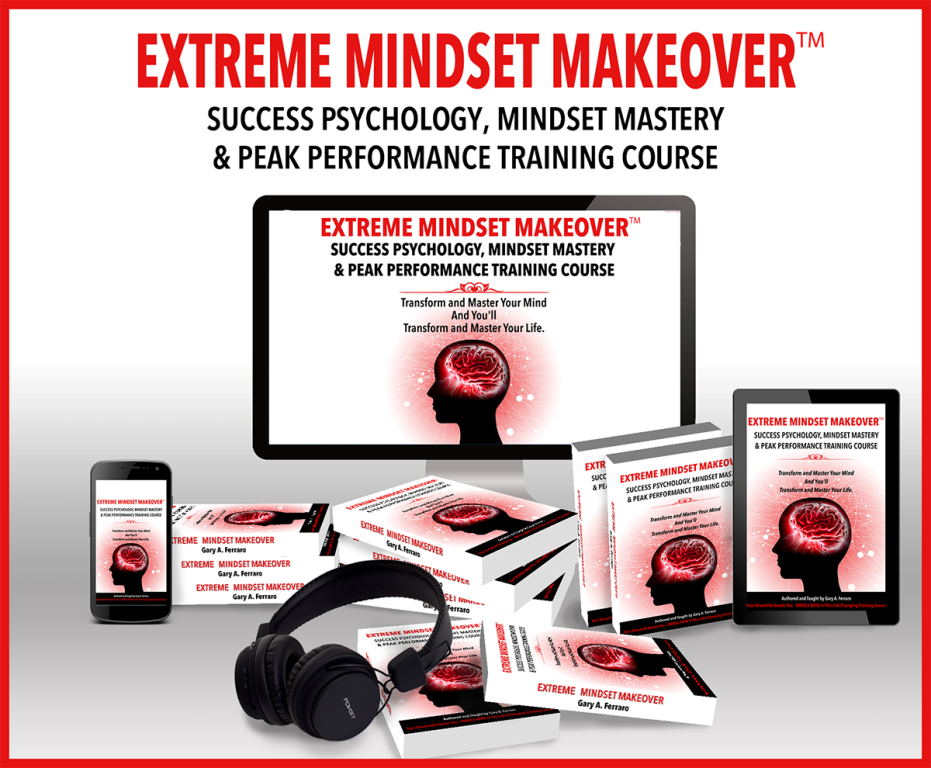 Using the Most Advanced, Definitive, One-Of-A-Kind
 NSBT (Neuroscience Brain Training)
Success Psychology, Mindset Mastery & Peak
Performance Training Ever Created.
YOU CAN…
Achieve and Build All The …
Financial Success
Personal Success
Love
Great Relationships
Great Health
Freedom
Fulfillment
Peace Of Mind
Your Dreamlife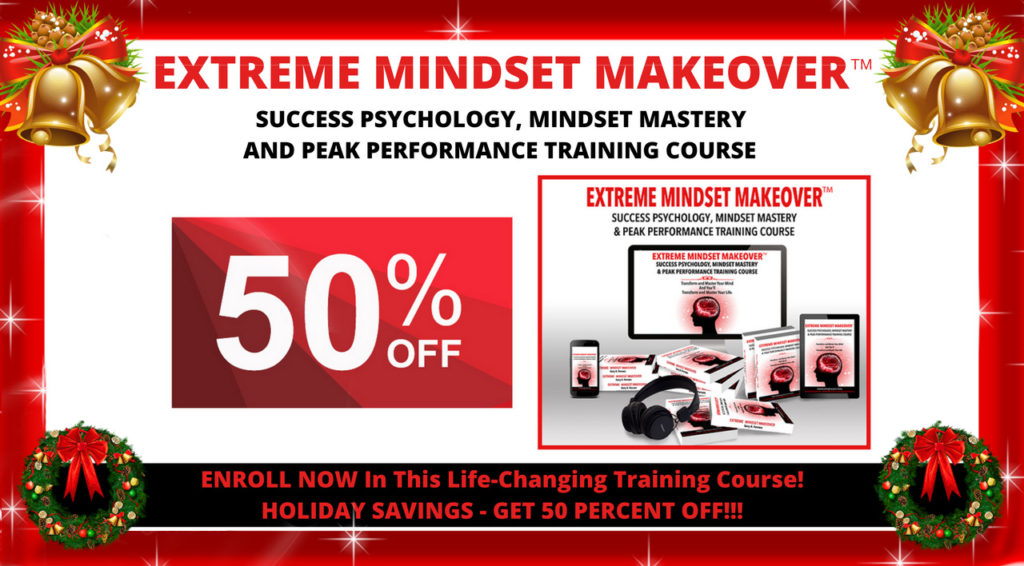 THIS SPECIAL 50 PERCENT OFF PROMOTION
EXPIRES AT MIDNIGHT ON SUNDAY
DECEMBER 31, 2016 – USA TIME – EST
The Regular Price is

$397
GET IT NOW FOR JUST $197
[ENROLL AT 50 PERCENT OFF HERE]
I Will See You On The Inside.
Sincerely,
Gary A. Ferraro – Author, Creator, Founder & Teacher
Extreme Mindset Makeover (TM)
Whyred and Inspyred (TM)
PS:  Again – here is the link to Learn More About EXTREME MINDSET MAKEOVER and the 50 PERCENT OFF – XMAS HOLIDAY PROMO.
PPS:  Again – here is the link to Enroll in EXTREME MINDSET MAKEOVER at the 50 PERCENT OFF – XMAS HOLIDAY PROMO