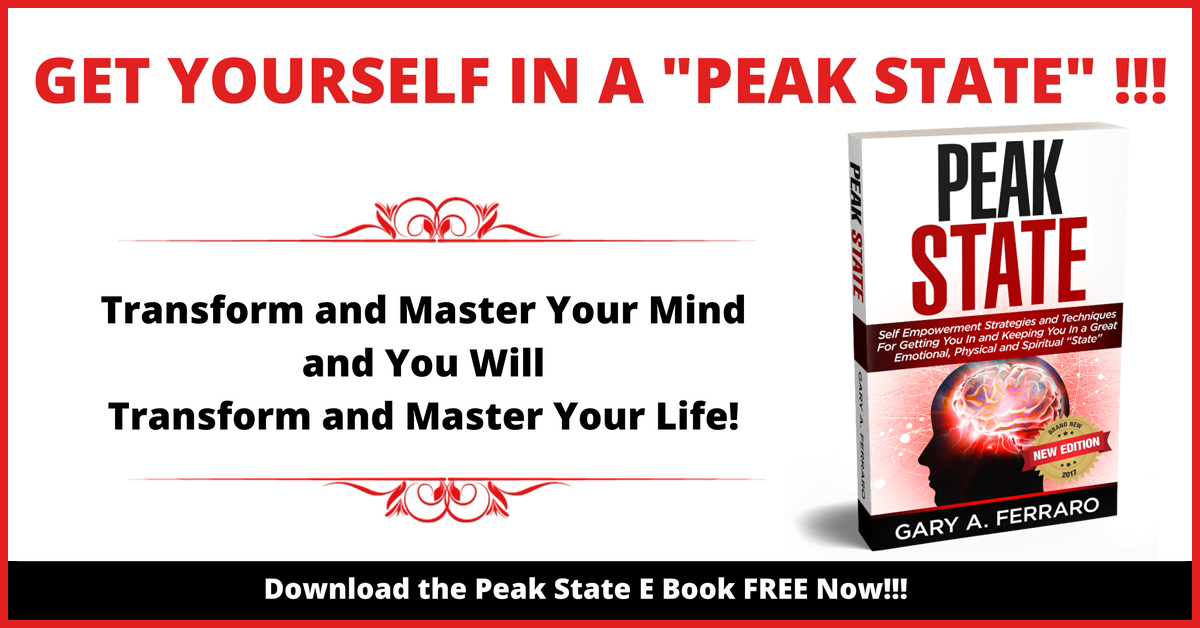 VISUALIZATION,
"Be Careful What You Focus On and Visualize…
It Usually Shows Up."
– Gary A. Ferraro
VISUALIZATION.
Deep Visualization and Deep Focus.
Deep Affirmations are more effective when done in conjunction with deep visualization and deep focus.  We will now discuss visualization techniques.
It is extremely important that you learn and use the art and the science of attracting and manifesting success to you with Visualization, Digital Vision Boards and Digital Visualization Movies.
To manifest success and use the law of attraction for achieving financial prosperity and your dream life most effectively you must visualize.  When you close your eyes and you visualize having success, financial prosperity and money and then imagine doing all the things you want with that financial prosperity and money, you are creating a new internal reality and internal "wiring" for yourself in your mind, heart and soul.  Your brain, your subconscious mind and the law of attraction do not know the difference between whether you are imagining that financial prosperity and money (or anything else you desire for that matter) and whether it is reality or not.  So when you imagine and envision it, the law of attraction kicks in and your brain receives and wires in those thoughts and images as though you were actually living them and have them, imprints and wires them into your neural circuits and your subconscious mind – and then ultimately it must and will fulfill those visualizations to you in real life.  When you are in the mental and emotional place where what you are envisioning feels and looks vividly real, you will know that it has penetrated your subconscious mind, and the law of attraction must and will deliver it.
Visualization in combination with affirmations is one of the key ingredients to mastering the  law  of  attraction  and  manifesting  success and financial  prosperity.    To  optimize  and achieve the desired results using visualization and affirmations you must do several critical things.
You must:
1) Think the right thoughts.
2) Say the right positive, present-tense words and statements.
3) Picture the right empowering images.
4)  Focus intensely on and emotionalize your ideal life with belief and empowering emotions attached to them.
5) Be persistent in your efforts and actions with the visualization.
HOW TO MAKE VISUALIZATION
WORK MORE POWERFULLY FOR YOU.
There are 5 critical parts to effective and powerful visualization.  It is important that you learn, practice and master the art of effective visualization in order to take advantage of the power that visualization can give to you in your life both financially and in all other ways. The five critical parts are:
I) WHAT YOU VISUALIZE.
The first essential element of visualization is to be very precise with your images and emotions about what you visualize.  The images should be empowering and move you emotionally.  Whether it is something specific you want, or seeing yourself performing with excellence in a certain task, career, business, event or situation, or the attainment of love, health, great relationships – you name it.
II) FREQUENCY OF VISUALIZATION.
The second essential element of visualization is the frequency with which you visualize. What this simply means is  how often you do it (daily is best) and the  number of times that you visualize (several times daily is best). Needless to say the more frequently you perform and repeat that very clear, precise mental picture of whatever it is you want, the faster it will manifest itself to you.  Optimally your frequency of visualization should be to do it daily and a minimum of twice per day.  Once first thing in the morning before you get your day going and once at the end of your day before you go to sleep.  Certainly if you can do it more often than that – so much the better.
III) LENGTH OF TIME YOU VISUALIZE.
The  third  essential  element  of  visualization  is  the  duration  of  the  mental  image  you visualize.  What this simply means is how long the length of time that you can and do hold the visualized picture in your mind each time you visualize it and replay it.  One of the keys here is to be able to be completely relaxed and focused (undisturbed) when you visualize. Deep relaxation combined with the undisturbed focus will allow you to hold your visualized images of what you want for many seconds or even many minutes – some can do it even for hours.   Needless to say the longer you can hold your visualized image in focus the more deeply it will be programmed, wired and impressed into your subconscious mind.  And once it is programmed, wired and impressed into your subconscious mind the more rapidly it will manifest itself for you.
IV) CLARITY OF WHAT YOU VISUALIZE.
The fourth element of visualization is the clarity and precise vividness of your visualization. There is absolutely a direct correlation and relationship between how clearly you can see your desired goal or result in your mind and how quickly it comes into your reality. The clarity and vividness of your desire directly determines how quickly it materializes for you.
Something to be careful of here.  Often when you set a new goal for yourself, your image or picture of this goal might be imprecise and unclear. The key is to write down what you want to visualize, read it, review it, speak it, use emotionally empowering pictures and images of it, set it to empowering music and then frequently mentally repeat reading, speaking, listening and viewing it and being "all in" emotionally with it.  If you do that it will be crystal clear  for  you.  Through  focus  and  commitment  to  creating  precision,  your  visualizing becomes very crystal clear and magnified.
V) INTENSITY OF WHAT YOU VISUALIZE.
The fifth element of visualization is the intensity of your visualization. What this means is the amount and depth of the Emotions that you feel and attach to your visualized images. This is the most important and most powerful part of the visualization process. It is often also  the  part  that  can  induce  the  deepest  and  most  intense  emotions  and  feelings. Whatever emotions flow, whether tears, smiles, words spoken out loud and perhaps even screamed some time – let it flow. Just remember to keep it positive.
A word of caution here. If you are really "all in" your emotional intensity can perhaps feel or become overwhelming for you and want to take you down a path that seems like it might (or actually can) impair you or make you recall pain, suffering and failure from the past.  This is natural but you must be aware of it so you do not then focus on that pain, suffering and failure as opposed to the happiness, success, fulfillment and gratitude attached to seeing and achieving your visualized goals and desires. Over time you will be able to command absolute control over it and those negatively charged emotions will subside and be under control.
Remember that the power of visualization is a neutral, un-biased phenomena.   It can either bring success or bring failure depending on which you focus on, feel intensely and magnify. It can either make you a success or it can hold you back and cause failure. Visualization brings you whatever you vividly and intensely focus on and imagine. Be careful how you use it so you get the good stuff and not the bad stuff.  Remember that as you see it and feel it – so it comes into being.
READ THE FULL CHAPTER ABOUT VISUALIZATION
IN THE FREE E BOOK – PEAK STATE.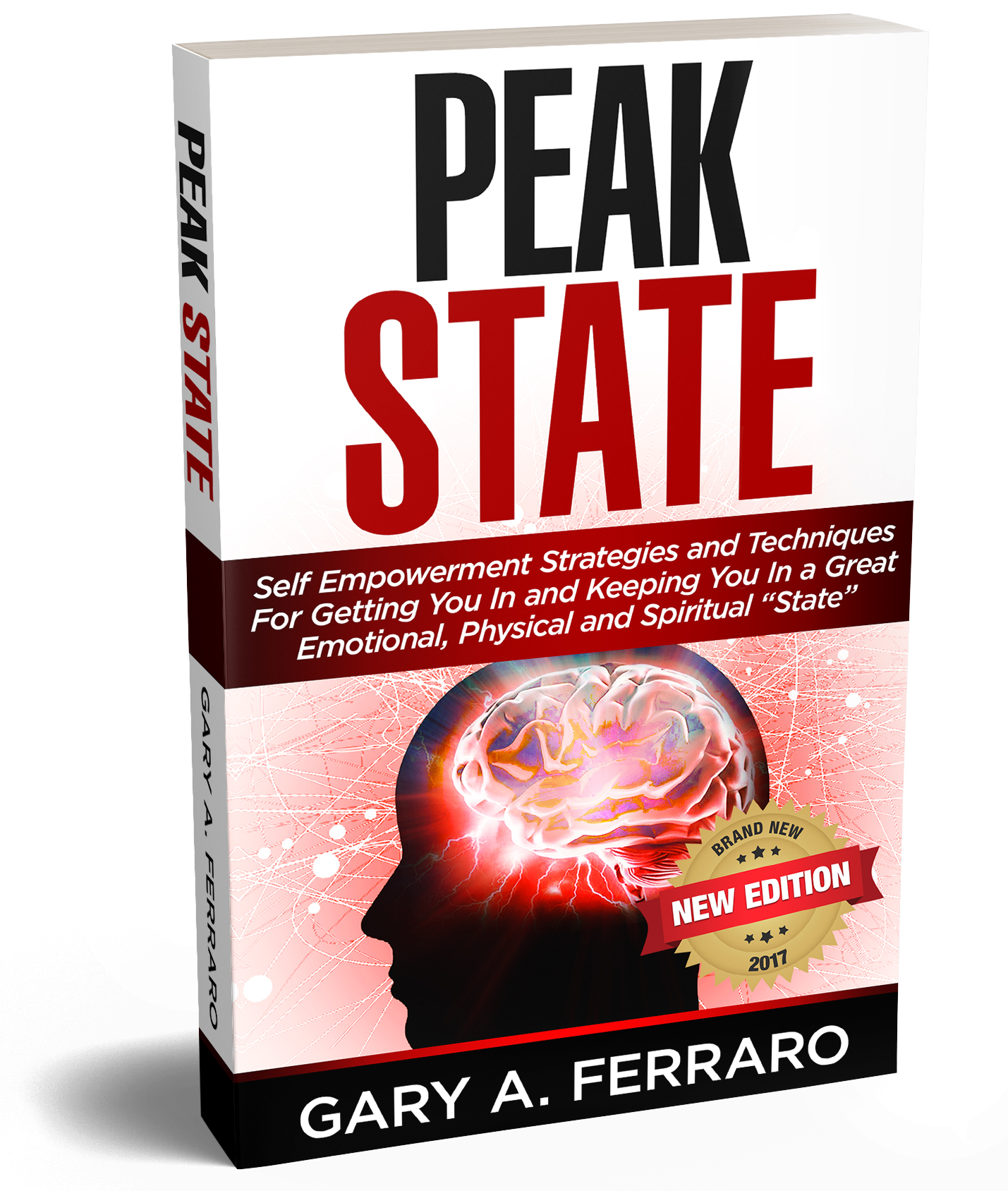 PEAK STATE – NEW 2017 EDITION
DOWNLOAD IT FREE FOR A LIMITED TIME.
CLICK HERE TO GET IT NOW FREE.
Enjoy It – Prosper – and Get In YOUR "PEAK STATE".
Sincerely,
Gary A. Ferraro – Author, Founder & Creator
 Peak State (TM)
Whyred and Inspyred (TM)
PS:  Again – here is the link to the New Special Edition – 2017 Peak State Free E book.